On day 5 we reached the Falkland Islands. Our first activity here was an excursion to see a mixed colony of seabirds on New Island. This colony contains Rock-hopper Penguins, Black-browed Albatross and Imperial Cormorants.
Zodiac boats were our primary mode of transportation to and from the ship.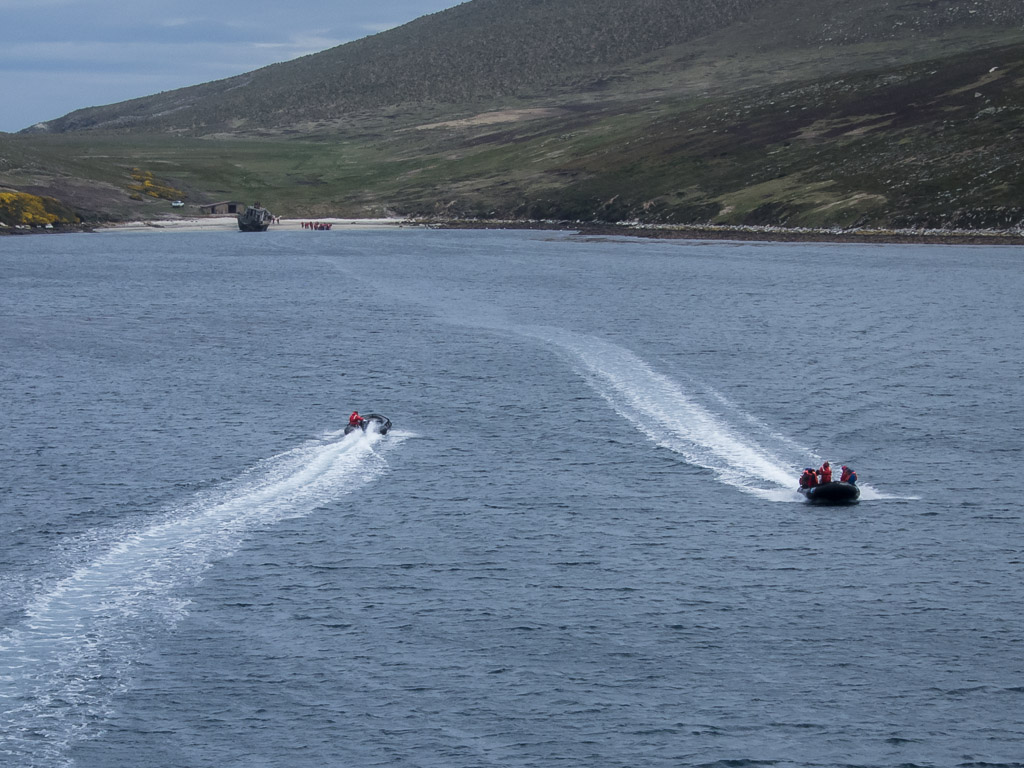 On the Falkland Islands we saw
many patches of gorse, which is a non-native plant introduced by the settlers.
During the hike to the seabird colony we saw many Upland Geese.
This is a female with goslings.
Male Upland Goose
Notice how the female has colors to blend into the terrain, but the male is very noticeable. It's the male's job to lure predators away.
This is a stitched panorama of the seabird colony. It is mostly Rock-hopper Penguins, Black-browed Albatross mostly around to the far left, with some Imperial Cormorants scattered throughout.
(be sure to click on it for the larger version)
Rock-hopper Penguin pairs
An unimpressed Imperial Cormorant
Black-browed Albatross
This variety of albatross have wingspans of around 7 feet.
Always hanging around the seabird colonies are predators watching for unattended eggs or young chicks.
Striated Caracara (a.k.a. Johnny Rook in the Falklands)
Southern Skua
On our hike to and from the landing spot, we would occasionally see these Long-tailed Meadowlarks.
Abandoned boat at our landing spot.
Looking back at the ship from New Island.